has provided consulting services for nonprofits throughout the United States and has obtained record-level annual and multi-year major gifts ranging from $250,000 to $16 million for both large and small nonprofits. She was instrumental in the design, development, and implementation of the historic $1 billion Gates Millennium Scholars Program for UNCF, and employed her strategic and entrepreneurial skills to the Capital Campaign for the William J. Clinton Presidential Center. Eugenia is prepared to apply her wide-ranging experience in development and communications to your organization, to move it to ever greater heights.


Creates and manages events from local fundraising gatherings to multi-million dollar productions. She has managed the UNCF An Evening of Stars (formerly the Lou Rawls Parade of Stars), and created and managed the UNCF Celebrity Golf and Tennis Tournament. Under her direction, every event has come in under budget, increased branding, and raised millions of dollars. Joann is poised and ready to do the same for you.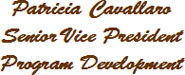 is experienced in Program Development and Design for large and small nonprofits, as well as for public and private organizations. She has developed grant winning programs for 100 Black Men of America, Inc., developed and designed the logo, theme and strategic approach for the Northern Virginia Regional P3 Conference, and worked with the William J. Clinton Foundation on naming opportunities and exhibits for the Presidential Center. Patricia stands ready to develop the programs that will increase your funding and extend your mission and brand.